How to dress for a larp? [Part I]
2022-06-06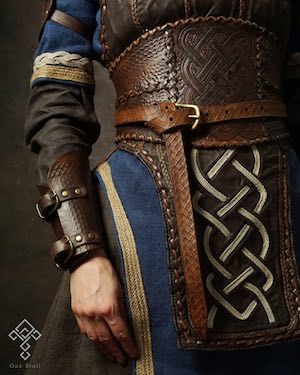 If you are going to a LARP for the first time and you do not know what to equip, this text is just for you! The most frequently organized events in Europe are the Larpy fantasy themed. Most of the games from the universe of The Witcher, Vikings, Lord of the Rings, Warhammer and many others take place in castles or in specially prepared camps equipped with historical tents and atmospheric furniture. The organizers provide most of the necessary infrastructure and information cards so that you can properly prepare for the game. However, it is very often your responsibility to dress appropriately.
So where to start? The basis of any costume, regardless of class or type of character, are pants, shirt and shoes. Good LARP pants are those that have as few modern elements as possible, such as pockets, zippers or press studs. They come in many universal colors, and the most common material is thicker cotton canvas . Before buying such pants, it is worth measuring yourself appropriately, so as not to buy too small. Sometimes it is better to tie the bottoms of the legs with climatic wrappers or a leather belt than to expose your ankles to contact with dangerous varieties of bushes!
If the party lasts more than a day, it is worth getting a second shirt, so as not to feel discomfort after a hard fight with a monster, a skirmish in the forest or inn. Sometimes a stale shirt can ruin your long-awaited fun.
From time to time there are events where climatic footwear is required and unfortunately we won't be wearing sneakers or boots. Shoes should be selected carefully and carefully measured so that chafed feet do not turn out to ruin our carefully planned hunting or dancing until the morning.
A very clever solution is to take with you some atmospheric bag, e.g. a jute bag , so that on the way to the shower you won't have to hide a towel under your shirt or other non-climatic items. Such a bag can replace a travel bag or allow you to hide the backpack in a nicely decorated tent so that it does not spoil the whole scenery.
For each game or a new party it is worth also stock up on a basic first aid kit equipped with plasters, spray for mosquitoes and ticks. It is worth remembering because we often play in the field where sharp branches, thorns and insects await us. Dressed in pants and a shirt and comfortable shoes, we are ready for our adventure. In the second part I will tell you how to spice up your LARP costume and dress for specific character classes.